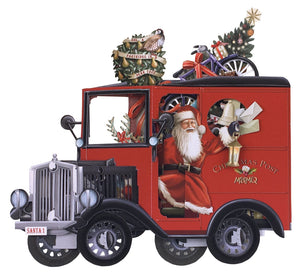 "Wow" is the word. Made to stand up and stand out Me&McQ designs are sure to be sent as a card but received as a very special gift. The magic is in the glorious amount of detail. Nevermind less, MORE is definitely MORE in the wonderful world of Me&McQ. There is always another surprise waiting to delight and amaze the longer you look. Fashioned from high quality ink and paper using ultramodern techniques, Me&McQ cards 3D pop up cards are designed to stand up and stand out.
Santa's Post Van is loaded with Christmas gifts: Is this the secret to some of Santa's special delivery skills? The gorgeous gifts have been transferred to a vintage postal van for the last leg of the journey on Christmas Eve. How many perfect present can you spot inside this festive truck. Is that a real 'partridge in a pear tree' your true love is sending?
Deck the halls: Doubling as a spectacular Christmas decoration in its own right, industry leading laser technology and masterful illustration combine to create a memorable greetings card guaranteed to stay on the mantlepiece long after the turkey is finished and the presents are opened. 
Spot the Chocolate Lab with her Christmas ears on!
PRODUCT DETAILS
Three dimensional, pop up laser cut greeting card.
Features a large blank message panel for your own special message and a luxury envelope.
Card size is 155mm x 155m when folded flat. That's UK letter rate in a 165mm x 165mm luxury envelope.