GREETING CARDS | GIFTS | LIFESTYLE | HOMEWARE
GREETING CARDS | GIFTS | LIFESTYLE | HOMEWARE
GREETING CARDS | GIFTS | LIFESTYLE | HOMEWARE
GREETING CARDS | GIFTS | LIFESTYLE | HOMEWARE
GREETING CARDS | GIFTS | LIFESTYLE | HOMEWARE
GREETING CARDS | GIFTS | LIFESTYLE | HOMEWARE
GREETING CARDS | GIFTS | LIFESTYLE | HOMEWARE
GREETING CARDS | GIFTS | LIFESTYLE | HOMEWARE
Welcome to Burley's
Whether you are shopping online or visiting us in-store in the stunning market town of Southwell, Nottinghamshire, we strive to provide a range of gift products and beautiful brands designed to make you or that special someone smile.
We specialise in providing high quality gifts, greeting cards, lifestyle and homeware goods for special occasions.
I'm here for you!
You are welcome to call, message or email to arrange a 'click and collect' from the shop, for assistance with a postal order or for those shielding or isolating we offer a free doorstep drop - in Southwell.
We offer free UK delivery on all orders over £50.
All our postal orders are despatched using the Royal Mail's Signed For Second Class service. The Royal Mail aim to deliver in 2-3 working days however please be advised that Royal Mail allow up to 10 working days from the due delivery date.
If you can't get out to find and post a card for your family or friends... I can! Let me know if you have any birthdays or special occasions coming up and I can help choose, write your message inside and even post your card directly to the recipient!
More than just a store
Our bricks and mortar shop is open Monday, 9:30am - 4:30pm and Tuesday to Saturday, 10am - 5pm for enquiries, purchases, orders over the phone and Click & Collect.
For phone enquiries, please call the shop on 01636 812106 during our shop opening hours.
For email enquiries, please email shop@burleysgifts.co.uk anytime!
We like to be social. Come and follow us on Instagram and Facebook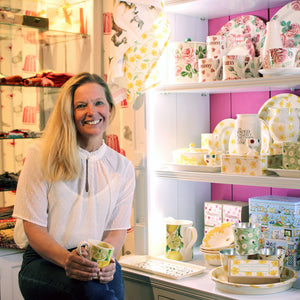 Hi I'm Carolyn...
Shopkeeper and proud owner of Burley's of Southwell, living in the present doing what I love and championing the small shop cause. 
My aim to inspire, bringing together the finest of greetings cards & gifts and supporting designers & makers that help to make our world a little happier & more beautiful place.
Burley's of Southwell was the baby sister of our then Nottingham city centre store and I opened in Southwell, a stunning market town in North Nottinghamshire in June 1997 - our country outpost. Over the years my little shop has developed its own unique identity inspired by its countryside location and my love of the outdoors and it sits firmly at the heart of our rural community. 
With a degree in graphic design and a background in designing for the gift industry the shop is a natural expression of my love for beautifully designed products with a bit of a story that makes us and those that give and receive smile.
With love
Carolyn x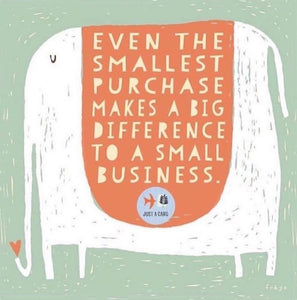 'Just a Card' Campaign
This just feels so vital right now. It's never "just a card" - it's also a tiny high five! A happy dance! A vote of confidence, helping to pay the bills! Supporting a dream, a little bit of magic. Shopping small really is a BIG deal!
The 'Just a Card' campaign is all about, raising awareness of how AMAZING artists, makers, small businesses and independent shops are and that when you support them you're doing a wonderful thing!
Thanks for being AMAZING too - we're all in this together!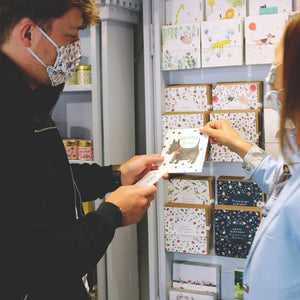 Thank You!
I'm overwhelmed by the sheer weight of love and kind words I receive from my amazing customers and super suppliers. I can't thank you enough for your custom, support and encouragement.
Carolyn x
Kind words
"Amazing Independent shop full of gorgeous treats!! Also have an amazing range for the little ones including joules!! The card selection is fantastic and there is always a helpful happy welcome!"

Sarah Elliott
"I managed to buy everything on my list in this fab shop yesterday - helped by Carolyn, who always has the best ideas. Wonderful cards and gifts to choose from. Thank you!"

Tracey Sparkes
"Just been in and was served by the lovely owner. I was looking for a gift and picked up a dainty pebble bracelet. It was priced at an extremely reasonable price. I will definitely shop here again."

Rowena Munro