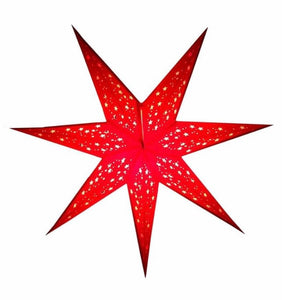 Hand-made white paper star lantern. Our 7-tipped white light shade is a design classic at home in any room of the house. Beautifully versatile, its clear light, clean lines and stylish geometric form make it a welcome addition to any space and colour scheme. This stylish white Scandinavian paper star combines a clear, neutral tone with captivating lighting effects - watch as light twinkles through hundreds of tiny star-shaped perforations, creating a sensational display of starry projections around the room!
 Our Paper Starlights do not come with lighting accessories and therefore illuminate with battery operated LED fairy lights and enjoy the atmospheric twinkle!
ASSEMBLY INSTRUCTIONS:
To open, hold star flat, place one hand inside one of the outer points and gently ease point outwards.
 Carefully repeat the first step with remaining points. Ensure each point is fully open before moving on to the next.
 Using the two cords provided, gently bring the two outer points together. If illuminating, place over light source and tie cords firmly to secure in place. Do not pull the cords to open your star.
CARE:
 For use indoors and in sheltered outdoor environments